UTMs ("Urchin Tracking Module") are tags that allow you to measure the effectiveness of acquisition campaigns on Analytics (Criteo, Shopping, Adwords, Facebook etc.).
In a world where we combine several campaigns from different acquisition levers, segmenting traffic sources to analyze them becomes essential.
The objective?

Optimize campaigns that perform less well and highlight campaigns that generate more conversion.
On Shoppingfeed, we offer the possibility not only of monitoring comparator statistics to then make profitability rules but also of personalizing UTM tags in order to identify sources of sales as well as Key Performance Indicators on Analytics.
How does it work ?

UTM tags are added at the end of the URL in code form (readable by Google Analytics), which we find in the "tracking_link" field on Shoppingfeed. They are added to the platform tracking, the Shoppingfeed tracked URL as well as the URL of the external tracking system if the customer has one (for example Eulerian).
UTMs are markers that allow you to precisely identify the trigger behind the sale on Analytics.
Here is an example URL: ​ ​​
By default, Shoppingfeed fills in the corresponding fields which you will then be able to modify according to your requirements. There are 4 parameters to configure your URLs, in particular:
3 mandatory tags (on Analytics)
utm_source: this is the traffic source, i.e.: {channel} (via Shoppingfeed)
utm_campaign: Shoppingfeed (feed source), this tag identifies the campaign
utm_medium: this is the campaign support (cpc, cpa, banner)
1 optional tag (on Analytics)
utm_term: these are the keywords used from which you can filter your queries

As for the last part, that is to say the "REDIRECTION URL", you will have to fill it out exclusively if you go through an external tracking system (see Eulerian) and which will provide you with this link with the variables:

Where to configure them in Shoppingfeed?

These UTMs can be configured directly via the " Settings > Statistics " section of your account: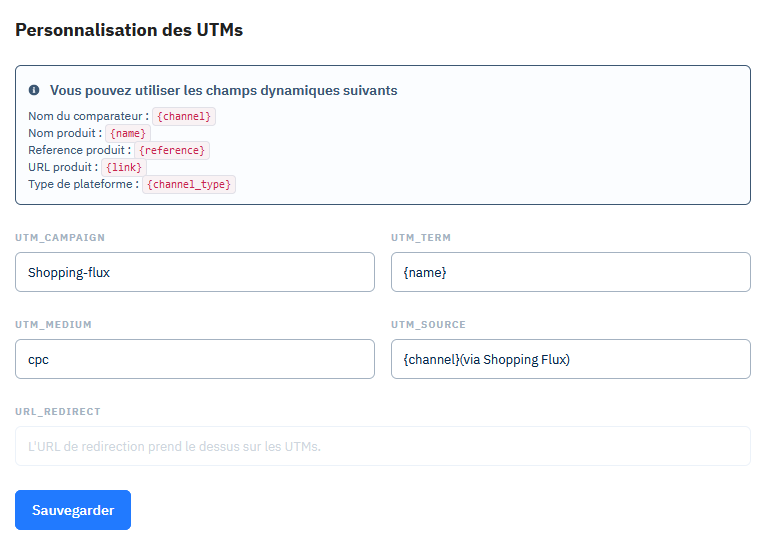 If you would like to know more, do not hesitate to read this dedicated Google article: https://support.google.com/analytics/answer/1033867?hl=fr