Google Shopping allows users to search for products on online shopping websites and compare prices between different vendors.

ONE: Make sure you meet all Google Shopping requirements.
For the Google Shopping Channel, in order for Shopping Feed to send listing data, you must have the following:
Recommended image size is at least 800 x 800 pixels in height and width. For apparel products, images must be at least 250 x 250 pixels and can't be larger than 64 megapixels. For all other products, images must be at least 100 x 100 pixels and can't be larger than 64 megapixels.
Account Requirements
Google Merchant Account. Shopping Feed will help you get product submitted to your Google Merchant Center and get them approved.
Google AdWords Account. The AdWords account will be linked to your Merchant Account. For any of the approved products within the Merchant Center, you must create a campaign within AdWords in order to display ads for them.
TWO: Set color and size fields.
This can be done with the manage colors and sizes tab. From there, for each attribute; if this is used as a drop-down option on your store-front, you want to make sure you assign it as a Color or Size

If you have any products that use two drop-down options (Such as Pillows who use Size AND Pattern), please make sure to assign one attribute as a Color and the other attribute as a Size (ie. assign Size as Size and Pattern as Color) This will help Shopping Feed understand any products that use 2 variation attributes (drop-down options) simultaneously on the store-front and be able to replicate that in the outgoing data feed to the marketplace/channel.
Note
Marketplaces typically only allow products to have two drop-down lists, so for products that use 3 drop-down options (variation attributes), please let us know so that our Support Team can further assist you.
THREE: Connect to the Google Shopping Channel.
The next thing to do is to log into Shopping Feed and connect to the Google Shopping Channel. This will take you through the appropriate steps to link your Google Merchant Account to Shopping Feed as well as set up a data feed. The feed should automatically be created for you in the Merchant Center when you successfully link your account.
FOUR: In the Google Shopping dashboard complete categorizing your products if you have not already done so.
Note your products must be categorized in order to be listed. Categories help buyers find your products for purchase.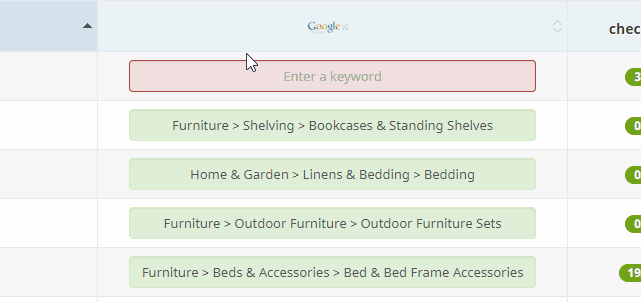 FIVE: From the Google Shopping Dashboard turn on products with the switches at the top of all of the categories.
Click here to go to the Google Shopping Dashboard.
If a switch is grey than the products under that switch are turned off.
If a switch is orange than some of your products for that switch are turned on.
If a switch is green than all of your products for that switch are turned on.

By clicking into a category you can expend that category and then you can turn on the parent products in bold or various variations/children of those products listed beneath the parent.
Note you must turn on the parent product for any of its variations to be listed.


SIX: Update the Channel.
The Update button (found at the top-right corner of the screen) helps you push the most recent changes made in your storefront and Shopping Feed account to the Google Shopping Feed as soon as possible.
Once the Update is completed, you can log into your Google Merchant Center to fetch and re-process the updated feed.

Note that the feed is fetched and re-processed automatically by Google on a daily basis.


IMPORTANT:
Be sure to select the Default Currency under Feed Settings after you find the feed in place in your Google Merchant Center. This will allow Google to process the feed with the appropriate currency data.