The Catalog page provides a global view of your product catalog.
Here you can find all your products imported to Shoppingfeed along with the basic attributes.
The link to the Catalog page is available on the main left-side menu.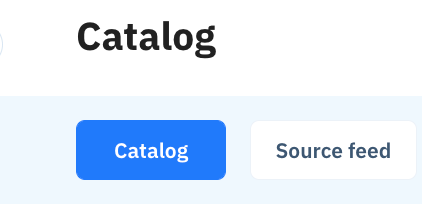 NOTE: The Source Feed page remains available on its dedicated tab.
The following pieces of product data are visible on the Catalog page for every product:
Parent-child relationship (Parent vs Variant);
Thumbnail;
SKU;
Title (Name);
Inventory (Stock);
Your internal product category.
Note that Standalone items are marked as Parent products with no variants assigned.
What can I do on the Catalog page?
Search Bar
You can look up your products by SKU. This search requires the exact match so you would need to enter or paste the entire product SKU.
No matter if you enter/paste a parent SKU or a variant SKU, all the product variants will be displayed in the search results along with a parent SKU in both cases.
Filters
You can filter the products displayed on the page with four different filters:
Brand;
Channel the product is enabled for;
Internal Category;
Product import date.
Detailed Product View
You can click on any product for a detailed view. The product page allows you to see all the fields with the raw values imported to the Shoppingfeed catalog from your Source Feed file and Supplemental Feeds as well as their modified (transformed) values sent to a given channel with all the relevant rules applied.

If you want to see the modified field values sent to a specific channel, you can select the corresponding channel in the dropdown at the top of the page, and then click the Search button.


For products with variants, it is possible to switch between the parent and any of its variants by selecting a corresponding product reference in the dropdown at the top of the page and clicking on the Search button.